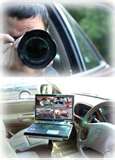 SERVICES:
1. Surveillance Investigations with emphasis on Insurance Defense, Worker's Compensation / Subrosa investigations; Alive and Well checks; Activity Checks.

2. Investigations in support of Litigation - Fact-Finding, Divorce, Support etc.

3. Personal Injury and Negligence Investigations;
4. Employee / business partner Integrity checks;
5. Surveillance Investigations and undercover operations;
6. Asset Search, locates and Debt/Judgment Recovery;
7. Background Investigations, pre-employment screenings; marriage, divorce records and people search/locates;
8. Domestic issues: Divorce, Infidelity, child custody;

9. Subpoena service, witness interviews and locates;
10. Other private investigative services as your specific needs may require.